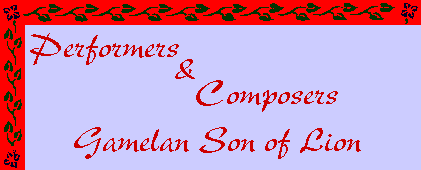 ---
Performing ensemble for the 2014-2015 season includes:
---
Barbara Benary is a composer/performer and holds a doctorate in ethnomusicology from Wesleyan University. She built the instruments of Gamelan Son of Lion in 1974 while teaching at Livingston College of Rutgers University. She has written over 20 instrumental works and a number of wayang kulit theatrical scores for the ensemble, including two wayang kulit operas, Karna: a Shadow Puppet Opera (1994) and Wayang Esther: A Javanese Purimspiel (2001). Some themes of her composing include process strutures, bell-ringing changes, vocal melodies. Her scores, both for gamelan and other chamber ensembles, are available, singly or in anthologies, from Frog Peak Music and American Gamelan Institute. CDs of her music include "Sun on Snow" (New World Records 2006) and "Dragon Toes" (GSOL Records 2007).

David Demnitz has been a member of Gamelan Son of Lion for more than ten years. He has composed many works which have been performed by the ensemble and he enjoys the support and collective spirit that membership in this composers' collective affords. Six of his works for gamelan appear on our CD "Gamelan As A Second Language" (GSOL2) reflecting his involvement with both minimalism and Afro-Cuban music. David is employed as a music instructor at a residential treatment center in Westchester County. In this context, insights and procedures discovered while composing for the gamelan are put to use in devising group activities for the students.

Daniel Goode composer and clarinetist, was born in New York, 1936, studied philosophy, and then music with Henry Cowell, Otto Luening, Pauline Oliveros and Kenneth Gaburo. Innovative music for solo clarinet includes CIRCULAR THOUGHTS (1974, Theodore Presser) and CLARINET SONGS (1979-91), released in1993 on the XI label. Goode is a co-founder and active composer-performer with Gamelan Son of Lion. He is also co-director of The DownTown Ensemble which he founded with William Hellermann in 1983, and of The Flexible Orchestra. Goode has toured internationally in Eastern Europe, Australia and New Zealand. His many scores and recordings are distributed by Frog Peak Music.

Jody Kruskal is a composer, performer, instrument builder and teacher, living in Brooklyn, N.Y. He first wrote for gamelan in 1988 with his theatre score for The Ring Dove (Ralph Lee and the Mettawee River Company). He joined Gamelan Son Of Lion in 1989 and sang the title role in Barbara Benary's Karna in 1994. Jody is the musical director, founder and builder of the Public Works Orchestra, performing numerous dance commissions including works by Laura Gates (Dance Center of Cambridge) and Elise Long (Spoke The Hub). He is composer for Shakespeare On The Sound company (Rowatan, CT) and wrote gamelan influenced scores for their "Midsummernight's Dream" and "The Tempest" productions. Jody also writes fiddle tunes for traditional dancing, and plays Anglo concertina with the contra bands Grand Picnic and Squeeqology.

Skip LaPlante - is a composer , percussionist and instrument maker with a background in new music and Javanese classical music. He is founder of "Music For Homemade Instruments," a composers' collective whose members write for and perform on found objects, much of which LaPlante has gathered from the city streets. He performs and teaches as well with a similar group called Bash The Trash. His scores are distributed by Frog Peak Music.
Laura Liben has worked as a musician with the 9th Street Theatre of New York City, on various Liz Swados productions, and with Shauna Kantor's Vocal Works! Theatre, touring in the U.S. and Great Britain. Ms. Liben plays Jewish and other forms of music in the New York City area, teaches Middle Eastern percussion at the Lucy Moses School for Music and Dance in Manhattan, and works with children as a music teacher and dance accompanist. She has appeared on several of Giora Feidman's recent recordings.

Layne Negrin - Layne is a composer with experience playing in a number of gamelan ensembles. He first started gamelan performance in 1993 with Woodstock's Gamelan Giri Mekar, more recently was a member of both Gamelan Cakrawala of Prague and New York's Gamelan Dharma Swara, and has been playing and contributing to the repertoire of Gamelan Son of Lion since 2013.
Larry Simon is a guitarist and composer from Brooklyn, NY who has written extensively for dance, film, and theatre. Larry as performed, recorded and toured with many jazz, blues and modern artists including John Zorn, LaMonte Young, David Sanborn, Big Jay McNeely, Lester Bowie, Rosco Gordon, George Coleman, Julius Hemphill, the Skatellites, David Amram, Ed Sanders, Leon Thomas, Eric Mingus and many others.
We welcome new members:
Sima Wolf, Myles Robert
---
Composers and Performers affiliated with Gamelan Son of Lion

Sasha Bogdanowitsch has a MA from the University of California at Santa Cruz and a BFA from the California Institute of the Arts,both where he studied composition and world musics, integrating the two into multi-movement, interdisciplinary performances. He has studied and performed in Indonesia, India, and Australia as well. During the last four years, while living in the greater Bay area, he has worked with such diverse artists and/or groups as: composer Lou Harrison, puppeteer Kathy Foley, New Music Works and the gamelans: Si Aptos, Si Betty, Sari Raras, Pusaka Sunda and UCSC. Sasha is currently living in Connecticut and collaborates frequently with Darryl Gregory in "The SaReel Project"

Nicholas Brooke composes for a variety of noisemakers, from orchestras to computers to instruments he builds himself. His works have been performed by the Nash Ensemble of London, the University of Illinois Orchestra and New York's Gamelan Son of Lion, among others. His Obomobile for 16 oboes is recorded on the Opus One label. Originally a clarinettist, he is also an avid instrument-builder, thereminist, and researcher/collector of early musical automata. During a two-year fellowship to Central Java, he studied gamelan, a Javanese percussion orchestra, with the former court gamelan leader Ki Suhardi and collaborated on musical projects with Javanese composers, dancers, and visual artists. Brooke holds degrees in music composition and philosophy from Oberlin Conservatory and College, and has also studied at New England Conservatory and the University of Vienna. He is currently a doctoral candidate in composition at Princeton, where he has studied with Steve Mackey, Paul Lansky, Paul Koonce, and Louis Andriessen.

Iris Brooks specializes in contemporary and world flute music. Her musical adventures include folk drumming with untouchables on the roof of a mud hut in Benares, India, a pennywhistle serenade for penguins in Antarctica, and a "sound safari" concert with the birds of Zimbabwe while paddling down the Zambezi River. Brooks has also toured and recorded Indonesian and new gamelan music. Her more formal concert appearances as a flutist include Carnegie Hall, the Smithsonian Institution, Metropolitan Museum of Art, American Museum of Natural History, and the Joyce Theater. Internationally she has performed in China, Canada, Bali, Belgium, Java, Japan, Iceland, England, Holland, and Egypt. Flute studies with Paige Brook of the NY Philharmonic led her to a degree in music from Bowdoin College with additional studies in World Music at Wesleyan University. Research in world flutes began in Asia during a Watson Fellowship. Since then she has served as the editor for EAR Magazine, the NY Philharmonic, and the Lincoln Center Festival. Over 100 of her music and arts/travel articles have been published in a variety of magazines.

Mark Steven Brooks is a composer who also performs on guitar, electric bass, keyboards and percussion, and earns a living as a recording engineer, music publisher and teacher. He holds a B.M. in composition from the Manhattan School of Music and an M.A. in music from Wesleyan University. He has received awards and commissions from the New York State Council on the Arts, American Music Center, Arts Council of Boston, Charles Ives Foundation, Crosstown Ensemble and many others. His involvement with Gamelan Son of Lion dates back to 1978.

Philip Corner (b. 1933), composer, pianist and co-founder of GSOL, has a long career in the avant-garde music of the Post-Cage era. A champion of collective artmaking, he was a member of he Fluxus movement. Many of his works involve improvisation, verbal instructions and graphic notations. His series of pieces "Metal Meditations" performed with another collective performing group "Sounds out of Silent Spaces" led directly to his involvement with gamelan, for which he composed dozens of scores. After retiring from Rutgers University, Corner left New York and moved to Italy, from which he concertizes around the continent. His pieces are still frequently performed by our ensemble. Corner's scores, recordings and works are distributed by Frog Peak Music.

Jody Diamond is a composer, performer, educator and publisher. She directs the American Gamelan Institute, a resource center for gamelan performers and scholars worldwide. She is currently a Visiting Scholar in Asian Studies at Dartmouth College and heads gamelan programs at Bates College (Maine) and Franklin Pierce College in Rindge NH. From her base in northern New England she visits Gamelan Son of Lion frequently to join us as composer and performer.

Miguel Frasconi Performer and composer on glass bowls, mbira, active in a number of new music ensembles.

Patrick Grant was born in Detroit, Michigan in 1963. He has studied at the Juilliard School and with I Wayan Lantir in Bali, Indonesia. He has worked as both a composer and performer with Music Under Construction, The Living Theatre, The Project for New Music at Harvard University, The Prix de Lausanne International Concours for Dance, and at Context Studios, CBGB, the Kitchen, and the Knitting Factory. Grant performs with his ensemble The Patrick Grant Group, a.k.a. (sTRANGEmUSIC.

Darryl Gregory is a music teacher and composer in New York City. He has written several pieces for Gamelan Son of Lion and feels that performing in the group has broadened his compositional pallette. His brass quintet composition "The Academe's Beard" recently commissioned by the Capitol Brass Quintet, London, England, was based on the modes and styles prevelant in gamelan music. Darryl runs a publishing consortium called FTW Music Publishing which specializes in music for brass ensembles, school ensembles and music engraving services.

Paul Hogan is a composer, keyboardist, and multi-instrumentalist who was born in Maryville, TN, and now lives in New York City. He holds a bachelor's degree in music composition from the University of Cincinnati College-Conservatory of Music where he studied with Mara Helmuth and Allen Otte. He is pursuing his doctorate of music composition at Columbia Universtiy and focuses his studies at the Computer Music Center. Paul composes for a variety of mediums including acoustic, electro-acoustic, and computer music. Paul currently plays in the electro-acoustic jazz group Current Quartet and the electronic duo Table, as well as in Gamelan Son of Lion. He is a co-founder of the Converging Currents Composers1 Workshop, an organization dedicated to the presentation of experimental music in unique locations; in row boats on a lake, in a deconsecrated church, in the woods with a trail-blazing mobile audience. His experiences as a piano teacher prompted the organization of a piano-store concert in which his twenty-three students premiered a new site-specific work. Each student played his/her own piano and Paul conducted from the middle of the room. The resultant cacophony was a student learning experience and typifies his musical philosophy -- to share the joy of sound making with anyone who is willing to listen.

Bill Jacobs has performed with Gamelan Son of Lion since since 2001. He has performed traditional and contemporary gamelan music for 10 years. Before moving to New York he studied ethnomusicology and performed with Gamelan Lake of the Silver Bear at the University of Delaware. He played in traditional Javanese and Balinese gamelans at San Diego State University. He has also performed with the North County Community Gamelan and the Boston Village Gamelan. Beyond the gamelan, Bill plays Irish penny-whistle and blues harmonica. He has also built a theramin but hasn't decided what to do with it quite yet.

Lisa Karrer works internationally as a director, composer, vocalist, performance and video artist, and collaborates with numerous musicians, artists and ensembles. She sings in a variety of languages and is an accomplished stilt dancer. Lisa produced the CDs "Pick of the Litter" by Music For Homemade Instruments, and Gamelan Son of Lion's "Bending the Gending". She and co-composer David Simons received an Aaron Copland grant to record and release the CD of their chamber opera The Birth of George on Harvestworks TELLUS label. Lisa received ArtsLink and Arts International funds to create several music-theater projects in Estonia, including a tour to the Glasperlenspiel Festival with GSOL in '03. She composed and directed Woman's Song: The Story of Roro Mendut, a multi-arts production which premiered at the Kitchen in co-production with World Music Institute, with support from The Greenwall Foundation. Lisa is currently developing "Pythia", a sound/video performance based on Par Lagerkvist's novel "The Sybil".
Denman Maroney (b. 1949) is known for his "hyperpiano" style (playing the keys with one hand and the strings with the other) and his system of temporal harmony (which allows him to write and play in multiple tempos). He has recorded for the Nuscope, Mutable, Cryptogramophone, New World, CIMP, Enja, Victo, Potlatch, and Erstwhile labels and won grants from Chamber Music America, NEA, NYSCA, NYFA, Music Omi, ASCAP, Meet the Composer, Mary Flagler Cary Charitable Trust, Jerome Robbins Foundation and Michigan Arts Council. He was educated at Yale Summer School (fellowship '74), Cal. Arts (MFA '74), and Williams (BA '71). http://www.pipeline.com/~denman
John Morton specializes in sound installations and environmental music, most of which involves computer manipulated sound collages. He also works extensively with music boxes and electronic processing of their sound. Two of his CDs are published by Innova Records: "Outlier" and "Solo Traveler."
David Simons is a composer/performer specializing in percussion, Theremin, digital electronics, and World Music. He has recorded and toured internationally with his own ensembles, and with Music for Homemade Instruments, Gamelan Son of Lion and numerous other groups and artists (see full bio on homepage link above). Simons has composed scores for dance, film, theater, installations, and concert ensembles. He received a 2003 Rockefeller Foundation residency at Bellagio, Italy to compose music for Newband and its Harry Partch instruments. His 2004 CD "Prismatic Hearing" is available on the Tzadik label.